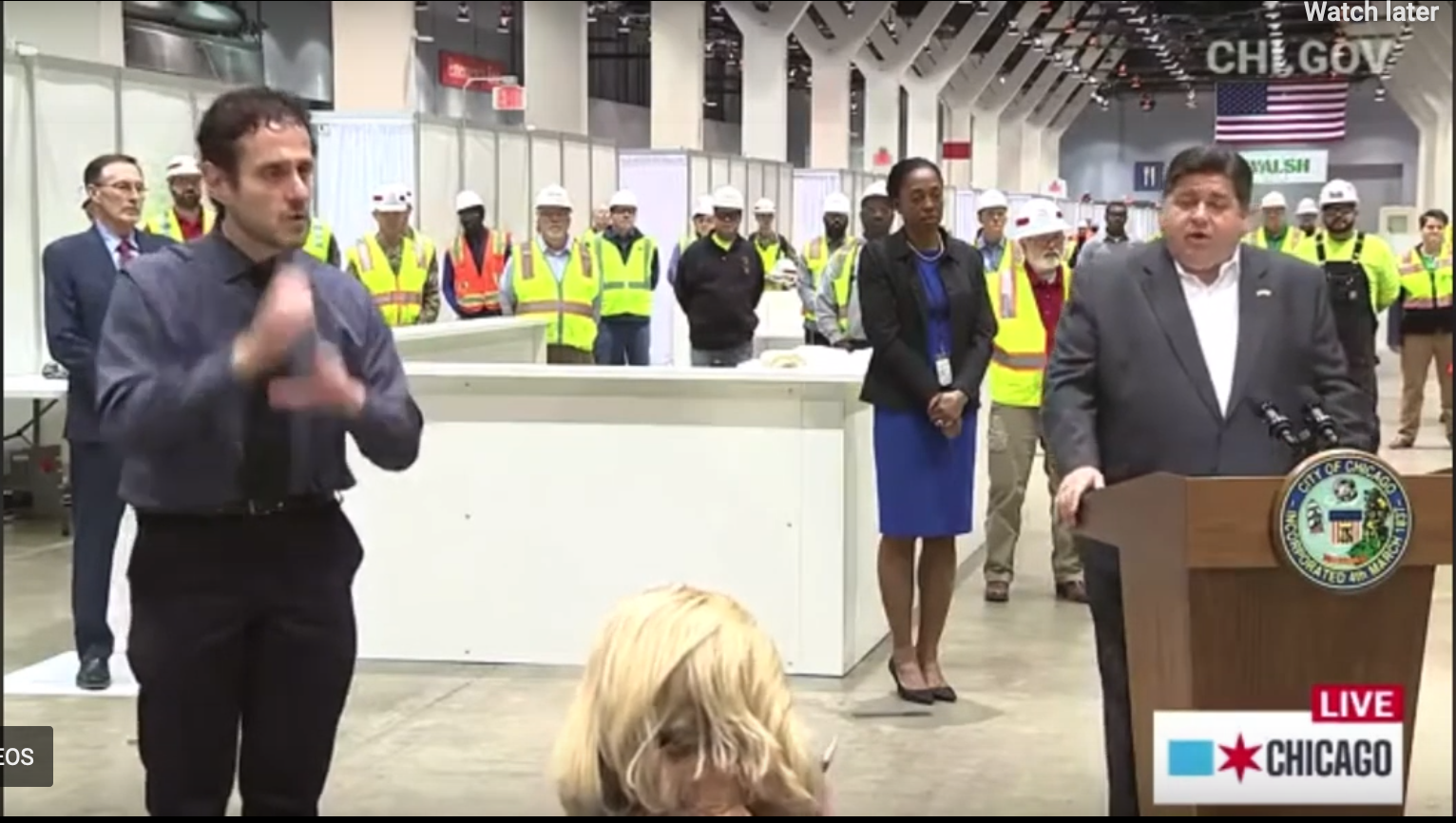 You can watch Gov. Pritzker's full remarks from his April 3

rd

COVID-19 briefing here:

https://www.facebook.com/GovPritzker/videos/521754135193629/

Illinois Governor J.B. Pritzker thanked Teamsters Local 727 Members working at McCormick Place for helping convert sections of the convention center floor into a COVID-19 alternate care facility last week. "When I walked into this building and saw just how it was transformed in 5 days, I was flooded with an overwhelming sense of pride and patriotism," Gov. Pritzker said. "In one week's time, the heroes who came together to make this possible built us a facility larger than the largest hospital in Illinois." Gov. Pritzker applauded the hard work of the United States Army Corps of Engineers (USACE), Illinois National Guard, Federal Emergency Management Agency (FEMA), and Chicago's labor unions that created 500 new hospital beds ready to treat COVID-19 patients experiencing mild symptoms.  The Governor made it a point to specifically mention each labor organization by name. "I would like to thanks the Army Corps of Engineers, the Illinois National Guard, FEMA, and the hardworking union tradespeople, and I'm going to list them all because they all deserve recognition. Electricians, Plumbers, Pipefitters, Carpenters, Teamsters, Telecommunications, Laborers, Operating Engineers, Decorators, Sheet Metalworkers, Ironworkers and Finishers. Monumental, round the clock dedication is what got this done before we need it, preparing for saving lives in the event things become as bad as some have predicted. " Gov. Pritzker also took it upon himself to contact Teamsters Joint Council No. 25 President Terrence J. Hancock to thank the thousands of Teamsters throughout the State of Illinois for the essential work they are performing keeping the State operating during the COVID-19 Pandemic. Gov. Pritzker added that the State plans to expand McCormick Place's capacity to 3,000 beds by the end of April. Teamsters Local 727 Business Agent Michael DeGard said the Teamsters working at McCormick Place are ready to handle the project. "We're willing to help in any way, shape or form. We're working with McCormick Place to provide as many Teamsters necessary to get the job done. We're all in this together and ready to do our part," DeGard said.