Amidst the Shelter-in-Place Order for the State of Illinois due to the COVID-19 pandemic, the vast majority of the more than 100,000 hardworking rank-and-file members of Teamsters Joint Council No. 25 and our twenty-five affiliated Local Unions are continuing to work in order to provide essential goods and services to the citizens of Illinois and the nation during this most difficult time.
Our hard working Union members are continuing to build and maintain Illinois's critical infrastructure and keeping necessary supply chains moving throughout the State during the COVID-19 pandemic.  Illinois is a critical hub between America's East and West coasts and Teamsters play a crucial role in the national supply chain, ensuring Americans get the essential food, medicine and supplies they need during this national crisis. In addition, Teamsters play a larger role in Illinois' day-to-day operations across nearly every industry and are actively battling the COVID-19 pandemic in numerous ways. Teamsters are employed as medical professionals, healthcare support staff, law enforcement, first responders, waste industry workers, freight and food supply chain workers, and engineers, just to name a few.
"Our rank-and-file membership is not only the backbone of the Illinois Economy day-in and day-out, but we are also on the front lines during the COVID-19 pandemic," said Teamsters Council 25 President, Terrence J. Hancock.  "Our members are the ambulance drivers, pharmacists, nurses, technicians, and other vital employees caring for COVID-19 patients as cases continue to rise within our home State.  These heroic workers need our support and deserve our gratitude now more than ever."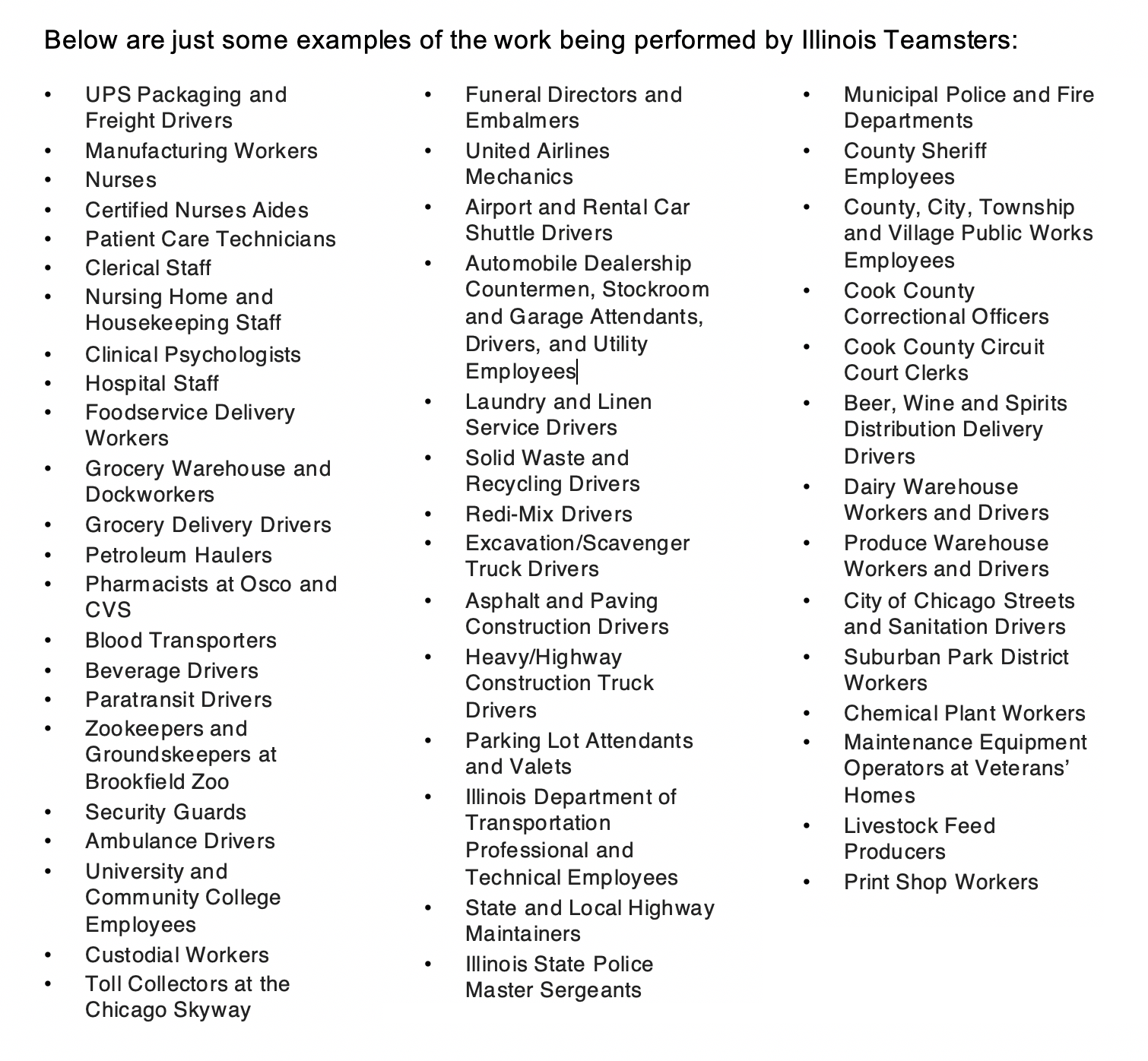 THANK YOU…ONE AND ALL!!!
Teamsters Joint Council No. 25 represents over 100,000 members in Illinois and Northwest Indiana.  The International Brotherhood of Teamsters represents 1.4 million members in North America.