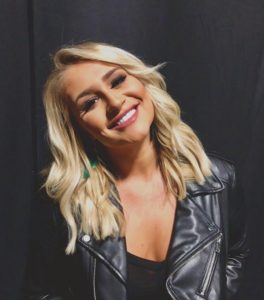 ---
The curtain will rise once again. The much-anticipated season premiere of The Voice will air tonight on NBC. Season 16 is sure to boast many changes from two new panel judges to an endless number of new, undiscovered vocalists from around the world showcasing their talent for hundreds of thousands of viewers nationwide. The passion and love for music remains unchanged and will continue to echo from the voices of every contestant to the ears of every listener.
Among the aspiring vocalists is Palos Park, Illinois native Abby Kasch, an entertainer, singer and songwriter who has captivated crowds of thousands with her unique and eclectic blend of the country and rock genres. She has headlined several music festivals and performed at many world-renowned musical venues including The House of Blues and Tootsie's Orchid Lounge.
In-between her travels, Kasch made time in her vigorous performance schedule to graciously lend her vocals and provide musical entertainment during two Teamster organized events in Illinois including the 17th Annual in Search of a Cure Golf Outing and the 2018 Joint Council No. 25 Holiday Reception.
"She has been gifted with a remarkable talent that our Organization had the privilege of hearing during two separate events," Terrence J. Hancock, President of Teamsters Local 731 and Joint Council No. 25, said of Kasch.
Although her passion for music is deeply rooted in her hometown, Kasch's musical endeavors have taken her across the Country, from Nashville, Tennessee (her current place of residence) to Hollywood, California, where she will be making her television debut during this season of The Voice.
Tune into The Voice this season to support Abby in her musical endeavors and watch as she continues to make great strides in her pursuit of her rise to stardom.
Teamsters Local 731 is an Affiliate of Teamsters Joint Council 25, America's premier labor union throughout the State of Illinois and Northwest Indiana.