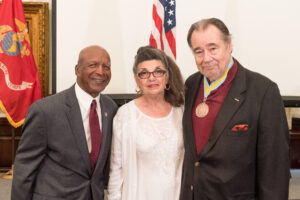 Former Teamsters Joint Council 25 Trustee Michael L. "Mick" Yauger has passed away in his Spring Grove home at the age of 72.
Yauger was appointed Trustee of Teamsters Joint Council 25 in 2009 and served as an Executive Board Member until 2019. He also served as a Trustee of Joint Council 25's Training Fund Committee. Yauger first joined the union in 1991 and was elected President and Principal Officer of Teamsters Local 786 in 2008.
Yauger was a Vietnam veteran who earned a Silver Star, three Purple Hearts and achieved the rank of Sergeant with the United States Army Airborne Infantry Rangers. He founded the Teamsters Military Assistance Program, which assists military personnel find employment at Teamster-represented freight and school bus companies.
A memorial service will be streamed online and is open to all. The stream is scheduled for 6:00 p.m. using the Microsoft TEAMS App. Follow this link and follow instructions to join: https://www.thompsonspringgrove.com/obituaries/obituary-listings?obId=20430719